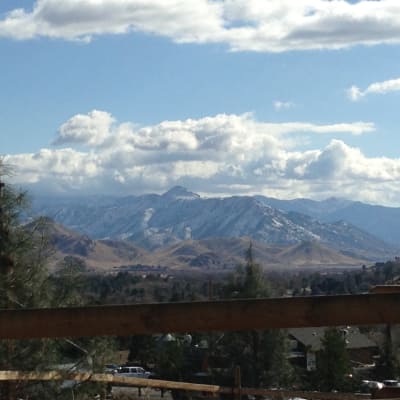 About Kernville
Originally Whiskey Flats
Kernville (Whiskey Flat) is a wonderful destination place! It offers up history as well as new and exciting adventures. It began as a place for those seeking their fortunes in the Big Blue Gold Mine on the Kern River in 1860. Alcohol was not allowed at the mine site, so an industrious fellow threw a plank across a couple of whiskey barrels down on the flat south of the mine and so named it Whiskey Flat. A few years later in 1864, the name was changed by the people of the growing town to the less wild and woolly name of Kernville. Families were moving in and it was no longer fitting to have the name associated with "demon rum," as the ladies of the town called it.
Present day Kernville has flourished and caters to large tourist industries centered on white water rafting, tubing, mountain biking, rock climbing, hiking, camping, antiquing and other recreational activities. Fishing is extremely popular, and the golden trout is highly sought after for catch and release fishing by fly fishermen. We also serve as the gateway to the Trail of 100 Giants (Sequoia Monument open May-Oct-weather permitting.) Excitement awaits you right here in Kernville, CA the southern Sierra gateway to fun!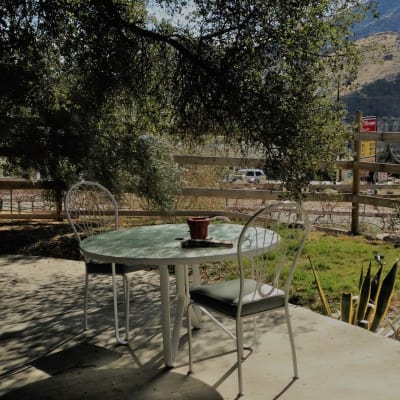 About your Stay
What to expect
As we have no on-site office we ask that you communicate your arrival time with us at least one day prior to your reservation date. That way we can prepare your cabin with the essentials for the number of expected guests.
Our rental cabins are on a large piece of estate property and within walking distance to the main grocery store and popular restaurants.
We do not offer daily housekeeping but will certainly try to accommodate any requests our guest have.
Kernville is your one-stop place to come and play, shop, dine, or participate in any one or more of the numerous activities offered by our local sports professionals. Rafting, mountain biking, hiking, snowboarding, paddle boards and more are available by some of the best professionals in their fields.